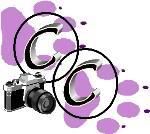 We went to Uran and JNPT for this Sunday's bird walk and it was a lot of fun. Saru and I are new to bird watching (he will claim he is not new) and are loving it. It is a 3 in 1 hobby. You get to pursue birding, hiking and photography in one go. Here is a tale I weaved using some images of green bee eaters. It is very childish and I was in two minds about publishing this post, but the birds were too cute to ignore.

I don't want to talk to you. You are mean!!




I don't care either!




Let me peek and see if he is looking at me...




Look at him! He doesn't care!!




Oh....sniff....sniff....I am going to cry




I am so sorry! Please don't cry! You will ruin your mascara!




Don't worry. I use L'Oreal because.... I am worth it!




For more posts on Camera Critters, go here.